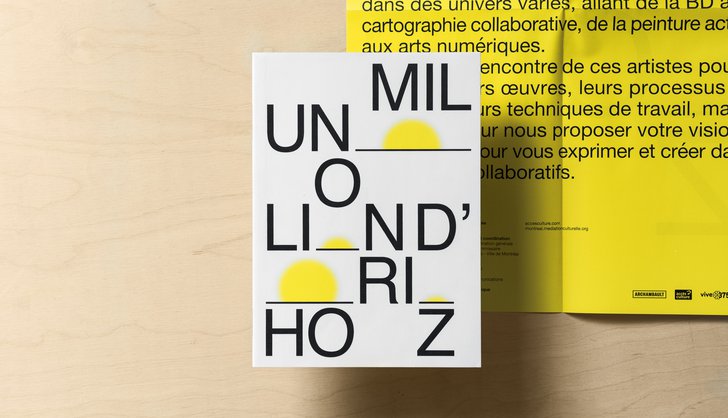 City of Montreal
Un million d'horizons
2017
| | |
| --- | --- |
| Client | City of Montreal |
| Project | Un million d'horizons |
| Service | Branding, Campaigns, Print, Wayfinding |
| Sector | |
Disseminated throughout the City of Montreal's 19 boroughs, Un million d'horizons was a series of exhibitions produced as part of Montreal's 375th anniversary. This Accès Culture initiative aimed to create a program of exhibitions and events to be presented throughout the Maisons de la culture network. The challenge was thus to bring all these sometimes eclectic venues and activities together in a single visual package that could attract a wide audience.
The poster-flyer was the central element of the communications strategy. Available at all the exhibition venues, it presented all the activities related to the event. Playful, attractive visuals occupied an entire side of the poster so that it could itself be used as signage, which highlighted the cost-efficient value of the multifunctional object. A series of variant forms were produced, such as web banners.
A catalogue of all exhibitors was also produced. Its design based on design codes in the visuals, it enabled us to interconnect all participating artists. It also constitutes a record of the event.